It is now March 18, 2023. The temperature of Lake Huron is 33 Fahrenheit. It has been snowing most of the day. I informed my wife that I plan to take a day trip over to the mouth of the Alabaster/Whitney Drain, also known as the East Branch of the Au Gres River. This place used to get some ink from a Michigan writer/fisherman named Dick Swan. He was instrumental in popularizing light line techniques for relatively large (at least by fresh water standards) fish. I have tried to find some writing on this area that is recent, to no avail. The water is a little cold, yet, but I figure to get over there in about ten days. Just as young Mr. Pip, I have great expectations.

Fredfish
Loc: Prospect CT.
lawrence1l wrote:
Good luck Lawrence, I hope you find some who want to play. Don't forget to take some pictures.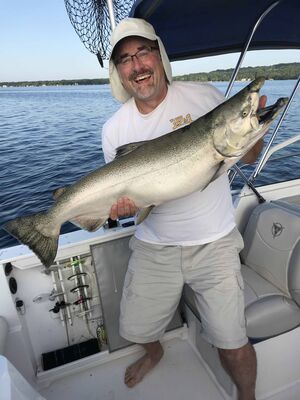 fishyaker
Loc: NW Michigan (Lower Peninsula)
That used to be a red hot spot back in the days of the massive salmon and trout runs. I think it has tapered off...but Then I have not fished it for a very longtime. I'm sure that "something" still returns there. Good luck when you go!
lawrence1l wrote:
I know smelt and steelhead still run there. I believe brown trout also. Pretty sure it's a bit early for browns and smelt but there should be steelhead there now. We have steelhead in the AuSable most of the year now thanks to a couple different strains ( spring spawners as well as fall spawners ). Good luck and be sure to take pictures and post them on here if you catch anything. We love seeing what everybody is catching.
If you want to reply, then
register here
. Registration is free and your account is created instantly, so you can post right away.